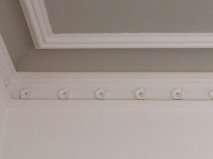 24 Jan

Winter Transformation Of Popular Summer Norfolk Broads Venue

Nestled on the edge of the Norfolk Broads at Ludham is the "Dog Inn".  Records show that there has been an inn on this site since the 17th century and has been a part of the fabric of the GREAT British holiday to families from all over the UK enjoying a boating holiday on the tranquil and beautiful Norfolk Broads.

The current owners Geoff & Lorraine Clinch wanted to give the pub a spruce up over the winter months ready for another busy summer season.  We were delighted to take on the project being a Ludham boy myself and having enjoyed the pub on many occassions.  We worked closely together and devised a schedule of work that would not impact the business allowing the pub to be open in the evenings to retain the faithful locals trade.

First to be tackled was the dining room.  Out was the outdated dark red kiln colour that brought the ceiling down and made the room look cramped.  In was a fresh and airy McPherson's shade "Orient"opening up the space and the period features that had previously  gone unnoticed.  The detail, right to the painstaking picking out the centre of each rose in the wall colour achieved a striking result bringing a current and classical look to the room perfect for enjoying a dinner with your loved one, family or business associate.

The Bar area was brought up to date with a clean and uncluttered look bringing it into line with the dining room.  The bar was stained in a dark colour making it look very dated and dark.   In order to transform it and bring it to life one coat of Zinsser was applied to seal the varnish to prevent the varnish "bleeding" through,  Two coats of Crown Clean Extreme in "Orient"  completed the look with the skirting boards picked out in black.  The chance discovery of a beautiful parquet floor was the icing on the cake!

Moving on to the toilets and cloakrooms, these were freshened up in a neutral fresh colour but the biggest change was the floor tiles.  With heavy traffic over the years the Marley floor tiles had become damaged and marked.  With limited budget available, replacing them was not an option so the floors were painted with Teamac floor paint.  The finished result was amazing, changing the whole aspect of the space with a clean, modern and professional finish.

The clever use of colour, blending, different textures and finishes have brought a rather tired old lady of a pub into a fresh, airy and flowing space, so why not pop in, have a beer and enjoy!